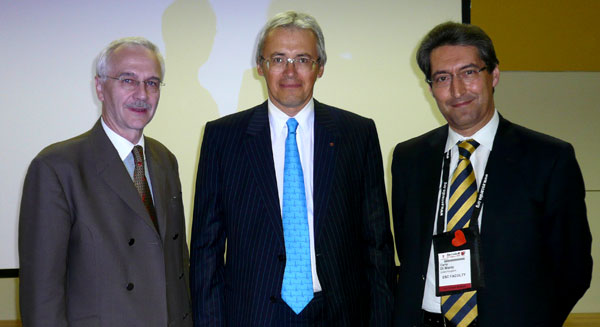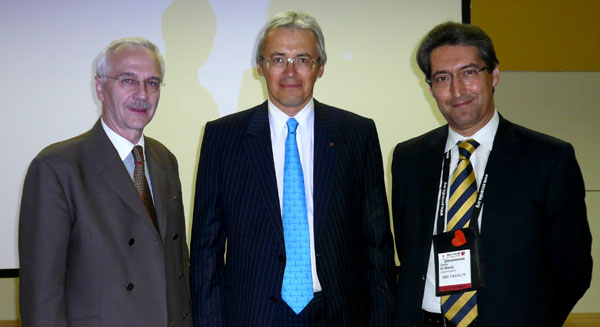 2009-2016
Based on needs assessment, the Stent for Life Initiative was launched by the coalition of the European Association of Percutaneous Cardiovascular Interventions (EAPCI), a registered branch of the European Society of Cardiology (ESC), and EuroPCR, at the EAPCI General Assembly, during the ESC Annual Congress in 2009, in Barcelona (5, 2).
The initial phase of this pan-European project was focused on the positive experience of five countries to provide the best practice examples (4). The Netherlands, the Czech Republic, Sweden, Denmark and Austria were visited and the logistics of ACS treatment was studied. Public campaigns improved patient access to acute PCI. Regional networks involving emergency medical services (EMS), non-PCI hospitals and PCI centres were useful in providing access to acute PCI for most patients. Direct transfer from the first medical contact site to the cathlab was found essential to minimise the time delays. Cathlab staff work had to be organised to provide acute PCI services 24 hours a day/seven days a week (24/7).
Even in those regions where thrombolysis was still used due to long transfer distances to PCI, patients had to be transferred to a PCI centre after thrombolysis. The highest risk non-ST elevation acute myocardial infarction patients were planned to undergo emergency coronary angiography within two hours of hospital admission, i.e. similar to STEMI patients.
Three realistic goals for other countries were defined based on these experiences:
primary PCI should be used for >70% of all STEMI patients,
primary PCI rates should reach >600 per million inhabitants per year and
existing PCI centres should treat all their STEMI patients by primary PCI, i.e. should offer 24/7 service.
Soon, 21 National Cardiac Societies and/or working groups or associations of Interventional Cardiology signed the obligation to take effective actions to fulfill the Stent for Life Initiative Mission in their country. Each of these SFL Member Countries implemented an action programme to increase patient access to p-PCI (3, 6).
In 2014, Kristensen et al. reported that a huge progress was made (1). Primary percutaneous coronary intervention was the dominant reperfusion strategy in 33 out of 37 countries. Nevertheless, still large variations in reperfusion treatment were present across Europe. Countries in Eastern and Southern Europe reported in particular that a substantial number of STEMI patients are not receiving any reperfusion therapy. The authors recommended strongly to further encourage the implementation of p-PCI as recommended in the guidelines.
At the end of 2016, the founders, PCR and EAPCI assessed the success of the last years and the future potential of the initiative. They found, that already then, Stent for Life had long grown beyond the borders of Europe. Countries like Egypt, Tunisia, South Africa, India, Sri Lanka, Argentina and Mexico joined and other countries expressed their strong interest and needs to become part of this initiative. So, without notice, Stent for Life had become global and the founders needed to think about how to adapt in order to be prepared for the challenges to come.
Since 2017, the Stent – Save a Life Initiative was founded as the global extension and continuation of Stent for Life. A new name denotes a new era, however, the mission remained unchanged:
"To improve the delivery of care and patient access to the lifesaving indication of primary percutaneous coronary intervention, thereby reducing mortality and morbidity in patients suffering from acute myocardial infarction."
"Stent 4 Life" targeting PCI at all who will benefit the most. A joint project between EAPCI, Euro-PCR, EUCOMED and the ESC Working Group on Acute Cardiac Care.
Widimsky P, Fajadet J, Danchin N, Wijns W.
EuroIntervention. 2009 Mar;4(5):555, 557. PubMed PMID: 19378673.
European Association for Percutaneous Cardiovascular Interventions.. Reperfusion therapy for ST elevation acute myocardial infarction 2010/2011: current status in 37 ESC countries.
Kristensen SD, Laut KG, Fajadet J, Kaifoszova Z, Kala P, Di Mario C, Wijns W, Clemmensen P, Agladze V, Antoniades L, Alhabib KF, De Boer MJ, Claeys MJ, Deleanu D, Dudek D, Erglis A, Gilard M, Goktekin O, Guagliumi G, Gudnason T, Hansen KW, Huber K, James S, Janota T, Jennings S, Kajander O, Kanakakis J, Karamfiloff KK, Kedev S, Kornowski R, Ludman PF, Merkely B, Milicic D, Najafov R, Nicolini FA, No? M, Ostojic M, Pereira H, Radovanovic D, Sabaté M, Sobhy M, Sokolov M, Studencan M, Terzic I, Wahler S, Widimsky P;
Eur Heart J. 2014 Aug 1;35(29):1957-70. doi: 10.1093/eurheartj/eht529. Epub 2014 Jan 12. Erratum in: Eur Heart J. 2014 Oct 7;35(38):2697. PubMed PMID: 24419804.
Stent for Life: how this initiative began?
Widimsky P, Wijns W, Kaifoszova Z.
EuroIntervention. 2012 Aug;8 Suppl P:P8-10. doi: 10.4244/EIJV8SPA3. PubMed PMID: 22917797.
Stent for Life Initiative: where are we standing and where are we going?
Widimsky P, Kristensen SD.
Eur Heart J Acute Cardiovasc Care. 2012 Apr;1(1):48-9. doi: 10.1177/2048872612441584. PubMed PMID: 24062887; PubMed Central PMCID: PMC3760550.
How to set up an effective national primary angioplasty network: lessons learned from five European countries.
Knot J, Widimsky P, Wijns W, Stenestrand U, Kristensen SD, Van' T Hof A, Weidinger F, Janzon M, Nörgaard BL, Soerensen JT, van de Wetering H, Thygesen K, Bergsten PA, Digerfeldt C, Potgieter A, Tomer N, Fajadet J.
EuroIntervention. 2009 Aug;5(3):299, 301-309. PubMed PMID: 19736153.
Implementation of primary angioplasty in Europe: stent for life initiative progress report.
Kristensen SD, Fajadet J, Di Mario C, Kaifoszova Z, Laut KG, Deleanu D, Gilard M, Guagliumi G, Goktekin O, Jorgova J, Kanakakis J, Ostojic M, Pereira H, Sabate M, Sobhy M, Vrints C, Wijns W, Widimsky P.
EuroIntervention. 2012 May 15;8(1):35-42. doi: 10.4244/EIJV8I1A7. PubMed PMID: 22580247.