Stent – Save a Life! dynamic session during SOLACI Conference this past summer
Although composed of very different countries and varied health systems, some key commonalities affecting optimal STEMI patient care can be found within Latin America.  Discover them…
Argentina and Mexico were the last countries to join the Stent for Life Initiative and the only ones belonging to LATAM (Latin America) that began to work guided by its mission to improve the access of patients with STEMI to primary angioplasty.
Given the good results achieved by the participating countries of the Stent For Life Initiative, this programme is now seeking to expand its mission beyond European borders, now existing under a new name, Stent – Save a Life! ("SSL"), to reflect progression towards a global reach.
Thus, LATAM is one of the new regions invited to operate in the SSL Initiative under the leadership of two Regional Champions, Dr. Jorge Belardi, Argentina and Dr. Jorge Mayol, Uruguay, two interventional cardiologists with extensive experience in the treatment of patients with STEMI.
In this context, it was decided to organize a joint session between the SSL Initiative and the Latin American Society of Interventional Cardiology (SOLACI) during the SOLACI 2017 Congress, held last August in Buenos Aires, Argentina.  Under the coordination of Dr. Jorge Belardi and Dr. Andreas Baumbach, (London, UK) EAPCI President-Elect, the reality of STEMI management in several Latin American countries was presented.
The session began with a presentation by Dr. Baumbach who spoke about how the SSL Initiative transformed the treatment of patients with acute myocardial infarction
Active contributors from several Latin American countries included:  Dr. Alfonsina Candiello, Project Manager of the SSL Initiative Argentina, Dr. Roberto Botelho from Brazil, Dr. Alejandro Martinez from Chile, Dr. Carlos Cabrera from Paraguay, Dr. Rolando Cuevas from the Dominican Republic and Dr. Jorge Mayol from Uruguay.
In order to achieve a richer and more interactive discussion, all LATAM speakers presented three slides that reflected the reality of the management of patients with acute myocardial infarction with ST segment elevation in each country.
Latin America is a region consisting of 20 countries and 7 dependencies that occupy an area of ​​approximately 20 million km2, with a population of 626 million inhabitants by 2015.  Although this region is characterized by a great diversity in the political and economic reality, in the majority of countries, the most frequent cause of mortality is cardiovascular disease.  For this reason, it is really important to join this type of initiative to improve the morbidity and mortality of our STEMI patients.
Several points in common, across nations, were highlighted during the session:
Absence of a National Registry.
Absence of reperfusion culture.
Little political support from the Ministry of Health with the exception of Chile and Uruguay.
Diversity in health systems: some countries have a unique health system while others have a highly fragmented one, with low integration between the public and the private systems.
As it was observed, there are several unmet needs in the management of patients with STEMI, so joining the SSL Initiative will certainly help Latin America improve the treatment of patients with STEMI in the region.
Dr. Jorge Belardi
Dr. Alfonsina Candiello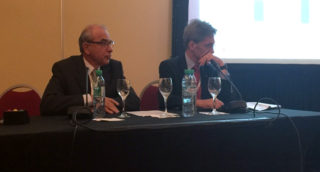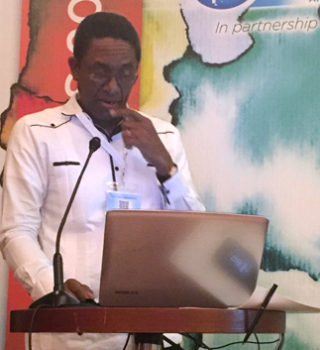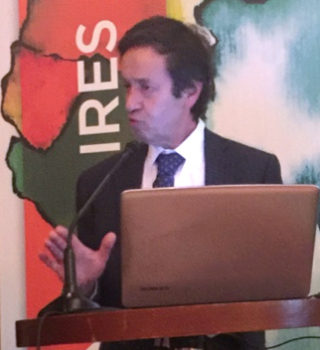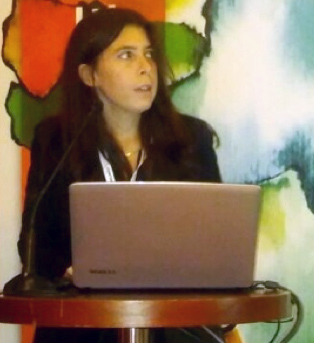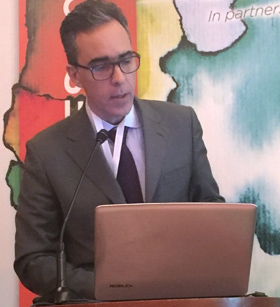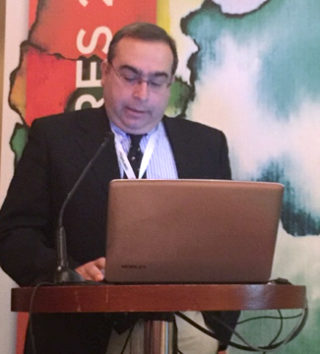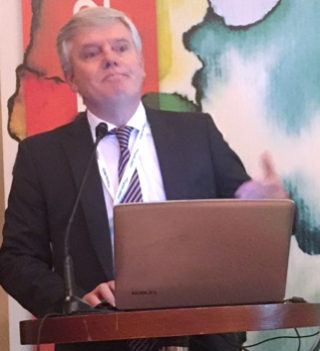 From left to right: Jorge Belardi, Andreas Baumbach, Rolando Cuevas, Alejandro Martinez, Alfonsina Candiello, Roberto Botelho, Carlos Benitez, Jorge Mayol.