Stent-Save a Life! welcomes Japan, Taiwan and Uruguay as new member countries
With the increasing exposure of Stent-Save a Life! around the world, more and more countries are willing to apply for an official membership with the global initiative whose aim is to address inequalities in patient access to primary PCI, a lifesaving revascularisation treatment for ST-segment elevation acute myocardial infarction (STEMI).
During its 2019 annual Forum held on the day prior to EuroPCR, Stent-Save a Life! officially acknowledged 3 new members – Japan and Taiwan for the Asia region and Uruguay for the Latin America region – with an organised signing ceremony.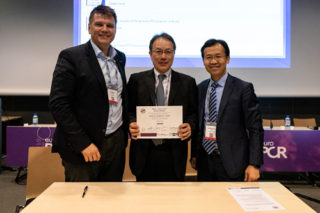 Representatives from the 3 countries co-signed the Stent-Save a Life! Declaration of Intent and Candidacy Agreement with Christoph Naber, Chairman of the initiative, and the respective regional champions before all the Stent-Save a Life! delegates and participants of the meeting.
While 80% of STEMI patients are treated with pPCI and most of the PCI centres offer a 24/7 service, Japan's objective is to take the SSL mission even further to allow all STEMI patients to receive the lifesaving treatment in the future.
---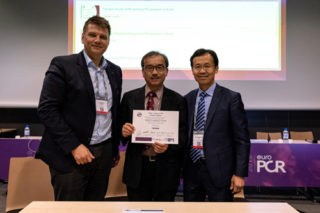 Not far in Taiwan, a high rate of STEMI patients also benefits from the pPCI reperfusion. Indeed, 98% of the approximate 25,000 annual STEMI patients get access to pPCI throughout the 100 pPCI centres of the country, of which half offers 24/7 services (the pPCI rate was less than 50% before the 24/7 service programme was launched in 2006). However, although the percentage of ambulance ECG in Taiwanese cities/counties increased from 0 to 80% between 2011 and 2018, there are still limited gaps to have this saving system in most of cities or counties, which hinted the need for improvement in the near future.
---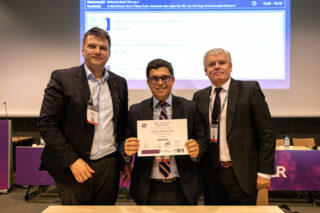 On the other side of the globe, the picture in Uruguay is very different. Just over a third of all STEMI patients (3,400/year) have access to the lifesaving pPCI treatment when yet almost half of them gets no reperfusion. This situation is mainly explained by a concentration of the pPCI centres in the capital city Montevideo (6 out of 7) and a lack of coverage for the rest of the country. In 2017, the National Health Ministry promoted the AMI National Program – supported by the National Cardiology Society, the Public University and the National Fund for High Technology Procedures (RePIAM Group) – whose objective is to promote the reperfusion strategies by paying the hospitals if they succeed to reach a pre-defined percentage of re-perfused AMI patients.
The entire Stent-Save a Life! community warmly welcome the new members and wish them all the best with their own SSL endeavour.