Dr Awad Mohamed takes on Regional Championship for Stent-Save a Life in Africa
Dr A Mohamed is Consultant Interventional Cardiologist at the El Shaab Teaching Hospital, Khartoum, Sudan.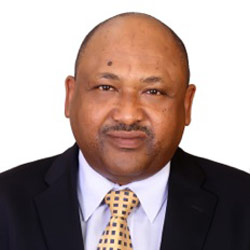 Currently working in the catheterisation laboratory he and fellow cardiologists established in 2007, he has been Assistant Professor of Medicine at the Khartoum University, Sudan, since 2012 and also leads the Cardiology Department at the Royal Care International Hospital in Khartoum.
Having graduated (BMBS) from the University of Gezira, Sudan, Dr A Mohamed received his overseas medical training in the United Kingdom and the Republic of Ireland from 1993 to 2007. Trained for 7 years as cardiology specialist in St James' Hospital, Dublin, Republic of Ireland, he graduated in 2007 with the Certificate of Specialist Training in Cardiology (CST) from the Irish Medical Council and the entry to the specialist registry of cardiologists in Ireland. In 2010, Dr A Mohamed received his MD degree in Cardiology from the Trinity College, University of Dublin.
Dr A Mohamed strives to provide cardiology care in his part of the world as per the current best evidence-based standards of care. Having performed the first primary angioplasty in Sudan in 2007, he also pioneered the 1st live transmission of PCI in the country for the Sudan Heart Society meeting in October 2017.
Actively involved with different organisations in Sudan, Dr A Mohamed conducted the first Course on Management of Hypertension (CCMH) in Africa, a collaboration between the International Society of Hypertension (ISH), the British Hypertension Society, PASCAR, WHO and the Heart Foundation of India.
He has been co-Director for AfricaPCR since 2015 and holds a fellowship of both the Royal College of Physicians of London (FRCP) and the European Society of Cardiology (ESC). Additionally, he is Chairperson for PASCAR Intervention Taskforce, Foreign Affairs Head for Sudan Cardiology Training program and President of Sudan Heart Society.
Despite being an all-rounder cardiologist, his core interest and expertise are in coronary intervention and acute coronary syndromes. Beside his clinical practice, his research activities include some key projects – such as the first STEMI national database registry in Sudan (2016) and the Essential Medications Survey in Africa (2016, AHN) – as well as topics related to primary angioplasty versus thrombolysis, characterization of AV conduction during PTCA and left ventricular multi-site epicardial (post CABG) pacing study.
Since 2018, Dr A Mohamed has been Stent-Save a Life Country Champion for Sudan having actively contributed to the enrolment of his country into the global initiative. He will now take on a dual responsibility with the Regional Championship for Africa, working closely with Dr Adriaan Snyders, to promote a higher pPCI access for STEMI patient in this region of the world.